B.I.P.P. Program – Business. Intervention. Protection. Prevention.
Implement the screening processes to ensure your business is built on sound principles of honesty, integrity, loyalty and sincerity and see the effects of the forward motion compounding results.
Curiosity Knocks 3 Star Solutions – Our system is designed to guide you through your own business processes in your personal and professional development analyzing all aspects of your current challenges, choices and present changes that are necessary in ensuring your future is aligning with the results that you truly want for yourself and your business.
Your Challenges – What are the obstacles that you need to get over?
Your Choices – What decisions do you need to abruptly interrupt?
Your Changes – What actions are necessary to get you to your desired life Map?
Your Results may have uncovered truths about the business owner, business elements and foundation and the team as a whole in both leadership roles and staff members that you were previously unaware of and Perhaps you need to:
-Move towards your greater morals to open the capability of having a balanced, safe and welcoming environment.
-Adjust and fine tune the systems in your business to increase the bottom line.
-Set your personal and professional boundaries with anyone. This one change, allows any toxic people to move themselves instinctively out of   your  life and your business.
-Focus in on the branding of your business to increase visibility and aid in marketing.
-Encompass healthier relationships within your business team leaders and staff members.
-Any, or all of these and more, could be the change that you are looking for that requires your full attention immediately.
We offer business owners, managers and entrepreneurs a reliable, high quality resource for business coaching, professional and management development on both small enterprise and large corporate scales.
This program helps the business owner to develop the strategies, motivation and accountability required to succeed in your business and personal lives. We designed this program in consideration of the business as a whole to ensure anyone can achieve self-satisfaction, independence and continued, reliable success.
We assess and ascertain the strong and the vulnerable aspects of your business to customize an action driven course centered around long-lasting results.
Evolve your business to a well-rounded organization that consistently achieves rewarding results!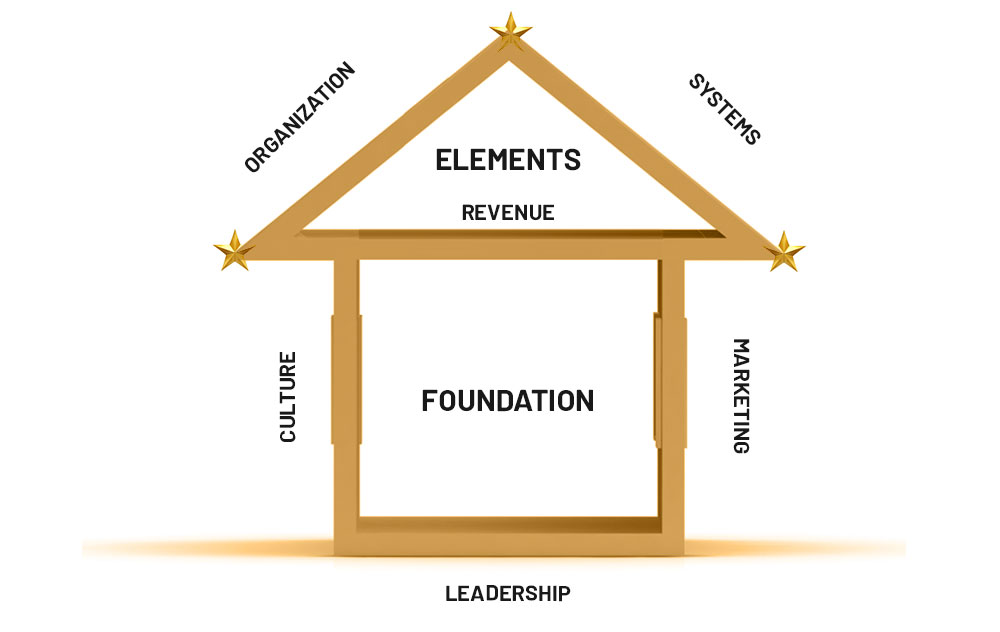 Program Description:
This program is designed to analyze all aspects of the business components and provide a snap shot overview of where your business currently sits in all categories and how to shift your business into its greatness!
Course Components:
ORGANIZATION
SYSTEMS
REVENUE
CULTURE
MARKETING
LEADERSHIP
Real change is hard to come by and that's why we created this program for business owners to work within your leadership members and staff members to work as a whole team alongside your goals to instill everlasting changes.
Our supporting materials are customized around the business owner, while motivating the team leadership members and staff members. Each component of the program is carefully constructed to put the business abruptly back on track to continued success.
Package Details
Full Program – 24 Modules, Slide Presentation & Interactive Workbook, Live Expert Solutions Coaches
Total $19,979.00 CDN+13% = Total $22,576.27
20% Deposit Required= $4,515.25
Less Deposit Total $18,061.02 or 12 weekly equal payments of $1,505.09 (tax included)
Outside Package Details
Expert Solutions Coaching
Professional Business Owner Individual (phone or live call) 1 hour
Cost Per Session: $1,000.00 CDN+13% = Total $1,130.00
Professional Business Owner & Leadership Members (phone or live call) 1 hour
Cost Per Session: Participants 1-50 $3,000.00 CDN+13% = Total $3,390.00
Additional Cost Per Session: Additional Group of 50 max $1,500.00 CDN+13% = Total $1,695.00
Professional Business Owner, Leadership & Staff Members (phone or live call) 1 hour
Cost Per Session: Participants 1-50 $5,000.00 CDN+13% = Total $5,650.00
Additional Cost Per Session: Additional Group of 50 max $3,000.00 CDN+13% = Total $3,390.00